What is da Vinci® surgery?
The da Vinci® surgical robot system is a precision surgical instrument designed to improve accuracy and outcomes in many types of surgeries, including gynecological surgeries. During robot-assisted surgery, the robot does not perform the surgery; instead, it's controlled by the surgeon to achieve greater accuracy and optimal results. The da Vinci® uses several very small incisions to insert the robotic device and other surgical instruments, eliminating the need for large incisions. A very advanced camera system attached to the end of the robotic device obtains highly-detailed, magnified images of the surgical site, then transmits those images to a computer screen. The surgeon uses those real-time images to guide the robot in performing very precise aspects of the surgical procedure.
What are the benefits of robot-assisted surgery?
The da Vinci® robot was designed to enable surgeons to have greater accuracy and precision during complex surgeries, improving patient outcomes and reducing recovery times. The instruments used by the da Vinci® system enable the surgeon to have far greater control during the procedure, minimizing tissue damage and reducing bleeding and postoperative discomfort.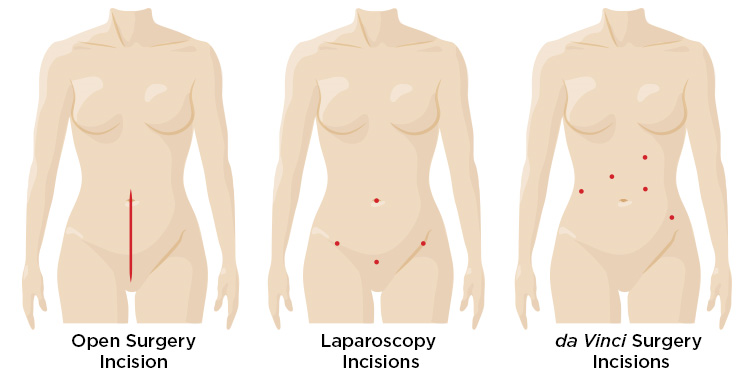 What procedures can be performed with the da Vinci® system?
The da Vinci® surgical robot can be used to perform:
hysterectomy
myomectomy (removal of fibroids)
cyst removal
oophorectomy (removal of one or both ovaries)
pelvic organ prolapse surgery
treatment of some types of urinary incontinence
treatment of some types of early-stage cancer
removal of endometriosis growths or implants
treatment of some types of heavy menstrual bleeding or pelvic pain
Is robot-assisted surgery a good option for all women?
While robot-assisted surgery can offer benefits for many women, it's not always the ideal choice for every patient or every type of procedure. Before any surgical procedure, a complete evaluation will be performed to determine if a minimally invasive approach is the best choice or if a traditional approach using a large incision is a better option.
Informational Brochures