Da Vinci Surgery Specialist
Center for Urogynecology and Advanced Laparoscopic Surgery
Rafael J. Perez, MD, FACOG
Urogynecologist & Advanced Laparoscopic Surgeon located in South Miami, FL
Robot-assisted surgery uses state-of-the-art technology to achieve superior results in many types of surgery. As a leading urogynecologist and minimally invasive surgery specialist in South Miami, FL, Dr. Rafael Perez has extensive experience in robotic surgery using the da Vinci® surgery system to treat his patients at the Center for Urogynecology and Advanced Laparoscopic Surgery. Certified as a Center of Excellence in Robotic surgery by the SRC, a company contracted by the AAGL to certify gynecologic surgeons who meet the criteria as true centers of excellence in GYN robotic surgery.
da Vinci Surgery® Q&A
What is da Vinci® surgery?
The da Vinci® surgical robot system is a precision surgical instrument designed to improve accuracy and outcomes in many types of surgeries, including gynecological surgeries. During robot-assisted surgery, the robot does not perform the surgery; instead, it's controlled by the surgeon to achieve greater accuracy and optimal results. The da Vinci® uses several very small incisions to insert the robotic device and other surgical instruments, eliminating the need for large incisions. A very advanced camera system attached to the end of the robotic device obtains highly-detailed, magnified images of the surgical site, then transmits those images to a computer screen. The surgeon uses those real-time images to guide the robot in performing very precise aspects of the surgical procedure.
What are the benefits of robot-assisted surgery?
The da Vinci® robot was designed to enable surgeons to have greater accuracy and precision during complex surgeries, improving patient outcomes and reducing recovery times. The instruments used by the da Vinci® system enable the surgeon to have far greater control during the procedure, minimizing tissue damage and reducing bleeding and postoperative discomfort.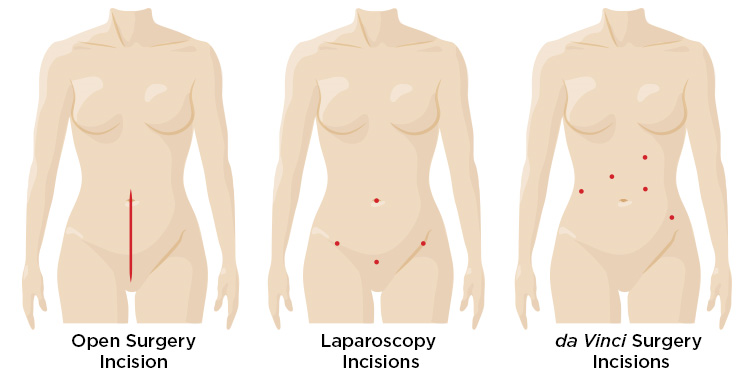 What procedures can be performed with the da Vinci® system?
The da Vinci® surgical robot can be used to perform:
hysterectomy
myomectomy (removal of fibroids)
cyst removal
oophorectomy (removal of one or both ovaries)
pelvic organ prolapse surgery
treatment of some types of urinary incontinence
treatment of some types of early-stage cancer
removal of endometriosis growths or implants
treatment of some types of heavy menstrual bleeding or pelvic pain
Is robot-assisted surgery a good option for all women?
While robot-assisted surgery can offer benefits for many women, it's not always the ideal choice for every patient or every type of procedure. Before any surgical procedure, a complete evaluation will be performed to determine if a minimally invasive approach is the best choice or if a traditional approach using a large incision is a better option.
Informational Brochures
Insurance
We accept most major insurance plans. If you have questions about your elegibility or coverage, please call our office. We are happy to help you.
Words from our patients
"Excellent. Loved him and his staff, he spent almost 30 minutes talking to me about my medical history and how we were going to proceed."

"Dr. Perez is the best. He remains on point with his responsibilities, he cares for his patients, and asks various questions and listens well."

"He's professional, well mannered. His staff is great! All very sweet and offer exceptional service. I'm glad that I have FINALLY found a good doctor that CARES!"

"He has delivered both of my children via C-section and helped me through an ectopic pregnancy. He gives all your possible options and allows you to make the decisions"

"I have been going to Dr. Perez for about 7 years and he is a excellent Doctor. The office nurse is very friendly and reassuring."

"I have recommended him to all my friends and he excels in specialized cases if you have complicated issues."

"He is an amazing doctor, he is super nice and does a thorough, detail assessment on all his new patients."

"I have now been with Dr. Perez for 9 years. He is easy to talk to and always has a professional demeanor and has a smile on his face."

"My first experience with the doctor was extremely helpful, the doctor answered all my questions and took his time with me."